Why Choose Hallster Products?
Our Classic Wooden water wheels (unlike cold metal) are that perfect accent you've been searching for, a wonderful "natural" companion to the vibrant scenery in your landscape. Constructed from Highest Quality Cedar or optional pressure treated Ponderosa pine, we have a deep sense of personal pride in every one of our authentic creations.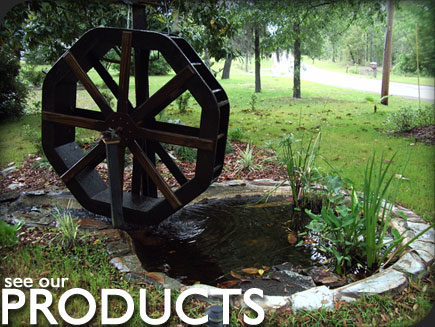 Payment Terms
Payment - Hallsterwaterwheel Products
We do not charge your credit card until we are ready to ship your completed unit\order. But, when we do so, your credit card will be charged by The Home Pro. However, if you order a unit customized by staining, special sizing, we will charge your card for a 50% deposit at the time of your order and the balance is charged when we are ready to ship your unit.
Verification of Credit Card Information
Any form of Credit Card fraud is against the law. Added expenses and results in higher prices for all business and customers. We desire to continue to keep our prices as low as possible by working diligently to prevent fraudulent credit card use. We obtain the sole right to reject a credit card payment if we detect that certain fraud indicators are present for a sales transaction. We have the right also to refuse to allow a credit card as payment for any reason at our sole discretion. Any rejection of a credit card as a form of payment is not necessarily determined by information provided by the cardholder, and we therefore apologize in advance for the extra security measures we have to abide to and may result in unacceptance of your credit card transaction. Hallsterwaterwheels will normally e-mail you an authorization contract\agreement requiring your personal signature. For high dollar purchases, Hallsterwaterwheels will typically mail or e-mail you an authorization agreement to sign and return to us via (fax or by e-mail) containing the terms outlined on this page. Hallsterwaterwheels may require this signed agreement for any transaction at our discretion. Hallsterwaterwheels may at its own discretion require payment by wire transfer for overseas\ international sales.
Security
We have taken many progressive measures to protect your secure on-line information, for example, as soon as we complete the final processing of your order; removal of your credit card information from our secure server is promptly established. If you have any major or even minor concerns be assured we would be happy to speak with you before you continue and complete your online purchase.